(UPDATED: May 11, 2016)
My 3D experience so far is featured in this blog post. I still have a lot to learn as I keep trying to add models to TurboSquid (search "JohnMarineDesigns" if on TurboSquid). The five models I've created so far will be shown in this post. This is your chance to see my work and get an idea of what I hope to improve on in the future. If you want to judge my 3D work, judge fairly. I am not expecting anyone to worship me like I am the best ever at 3D or anything. So having said all of this, here is a look at the models I've created so far.
NOTE: Because all of these items are offered on TurboSquid, you can click on the images or the links below the images to take a further look at my models.
LATEST UPDATE(S)/REVISION(S)
MAY 11 2016 - typo corrected.
---
My 3D Journey So Far...
---
Here are the models I have created so far. If you want to learn more about each model, click on the images and links to each model. The models are all listed based on the order I uploaded them to TurboSquid.
Model 1: Voxel Vehicle Starter Kit.
Voxel Vehicle Starter Kit
-
This is the first TurboSquid item I published. It isn't a true 3D model because this originated from MagicaVoxel, and MagicaVoxel is used in the creation of voxel models.
The first item I offered on TurboSquid was to help people make their own voxel vehicle models. Due to the popularity of my voxel vehicles, I decided to offer a package to help some people get started making voxel models. I didn't want to simply offer my fine voxel model cars freely. In fact, I am still a bit undecided on whether or not to even offer my full range of voxel vehicle models or make polygon 3D models of my voxel model vehicles. I am considering the latter and have set up a few vehicles I am still developing. Speaking of polygons...
Model 2: Basic Sword.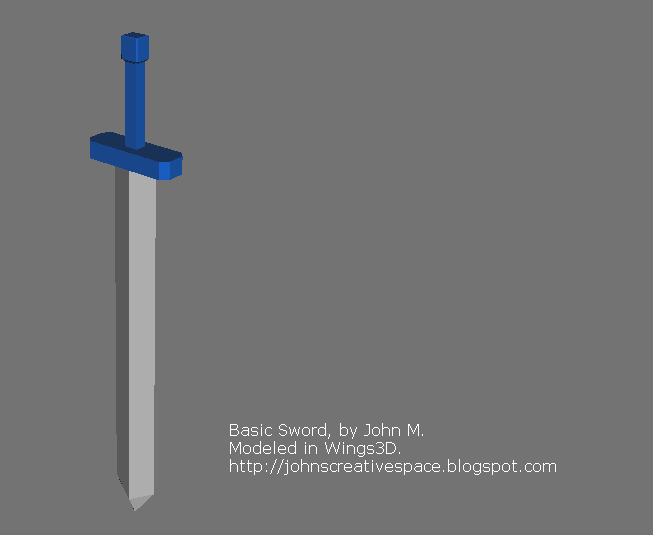 Basic Sword
-
This is the first true polygon model I created and offered online.
One model I created was a sword. It was purely basic, hence it being a "simple" sword. I still wanted to offer a basic product for people to enjoy. So anyone could use this sword as a prop, something to equip for players in games, or any such application. I actually took this sword and added a few more details at the hilt and on the blade itself. I actually triangulate the faces on the blade to add a little more detail. I even thought about making the hilt of the sword more fancy. However, I kept things mostly as is and moved on.
Model 3: Basic Trophy.
-
This is a trophy I created in Wings3D. I made one in Blender, and I felt I made a better one in Wings3D.
Actually, I think I offered this trophy to TurboSquid before I offered my sword model. This is still a fairly good trophy model. This was actually a model I was working on then decided to make an entirely new model trophy. I made an entirely new trophy model to reflect some of my 3D skills in using Wings3D. One special skill I learned was in using the Intrude feature of Wings3D. You have to be careful using Intrude, especially when trying to use it to define certain interior details. It is best to use Intrude to properly define the interior of items. So one thing I did was make the cup part of the trophy it's own object. After making the cup part hollow, I re-attached the cup part to the rest of the trophy. I later went ahead and took four vertices to define the handle parts of my trophy. I then beveled those vertices. Afterwards, I went ahead and extruded those sections to define the handles. Many more extrusions were made until I made the handles as properly as I could. After I was all done with the cup part of the trophy, I went ahead and smoothened it for an amazing finish.
Model 4: Basic Trident.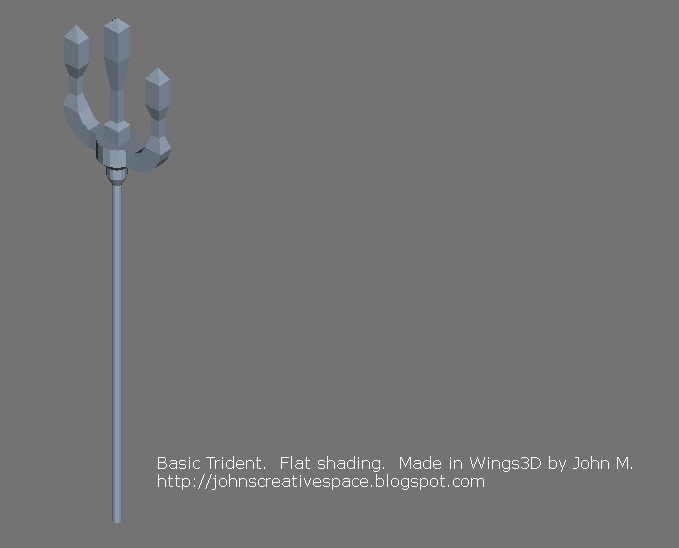 -
This model of a trident is fairly basic in design.
I tried a more interesting model by creating a trident. The most important thing I learned making this model was the usage of beveled edges and edge loops to define certain parts of models I want to keep sharp. At this time, I actually got to learn using hard edges. The model was uploaded in its non-smoothened form. I don't intend for the model to be smoothened anyways. The main thing I was learning was the use of adding edge loops and beveled edges to preserve certain sharp shapes for when a model gets smoothened. You have to place those edge loops very close so that you don't get funky results when you try to smoothen the model.
Model 5: Modern Stool.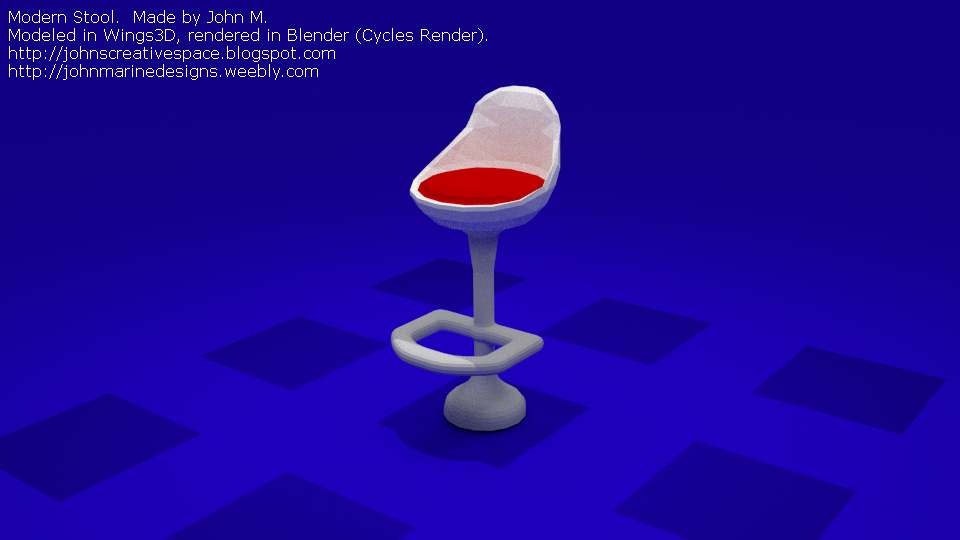 -
Have a seat in this modern stool! :)
I haven't made or released a model for some time. So what I did was try to create another model. My latest work is a stool. Rather than just a basic stool, I decided to make a modern kind of stool. This is a fancy sort of stool to sit in with back support and some bars for your feet to rest on. I needed to put some edge loops around the loop where the feet can be rested on to preserve a decent shape. Without proper placement of edge loops at key parts of the model, you end up with some funky results when you try to smoothen the model. This was perhaps a key lesson I learned in trying to make models. It will be a trial-and-error process trying to make proper models and trying to maintain a good amount of the geometry.
Just about all of these models were created using materials only. All of these five items to TurboSquid, except the first one, were modeled using Wings3D.
---
The Next Steps?
---
I am trying to develop vehicles and characters. There hasn't been anything I am proud enough to share with you all at this moment, though.
Everyone has a certain talent level and a certain level of devotion towards making certain material. Some can make spectacular models that are the work of weeks, months, and even years. Some feel they can make even the simplest models in just the course of one day or a few days. I don't feel I am experienced enough to make models of impressive quality. That is why I will mostly stick to low-polygon and even medium-polygon models. Even if I make hyper-realistic models, I am not expected to have the sort of quality that could get me recognized by major companies or major design studios. I don't have the skills or the patience to make some of the most amazing 3D models out there. Maybe eventually I will reach superstar status making 3D models, but that time is definitely not now for me at this point. I am not selling myself short- I know what I am capable of and what I am producing. I am just not at the level of 3D experience and talent that would qualify me as a professional or a powerhouse at 3D. The work I produce is on a level where I feel I am most capable.
As far as offering my work to others, I feel people will pick up my work and find many ways to utilize my content. A lot of the items I've modeled are nothing really special, but I am pleased if people see my work and decide to use it for various media projects or games. So please feel free to help establish my work and my presence.
---
Special Request!
---
You can find all of my work on TurboSquid, including any future models I upload to TurboSquid, by clicking here:
JohnMarineDesigns on TurboSquid
. Please help support me and my work any way you can. I thank all of you who support my work regardless.
My 3D experience is growing. My skills are improving. All I can hope for is to reach an impressive level of work. Only you can help me get there. I want to thank you for visiting my blog and reading this post. Thank you for reading! Take care and be well.
read more...