To reach my goal of making a game, I have been working on a game prototype this week. As you could tell by the title of this blog post, it is a maze game like a Pac-Man game. I am using Löve2D to program it. I actually have rediscovered Löve2D to quickly build my game. This is kind of a simple project to try to build my first-ever game.
Early Notes and Prototype.
I won't give away many details on the specifics of my game concept, but I will offer an early image of the prototype I have been working on. Take a look: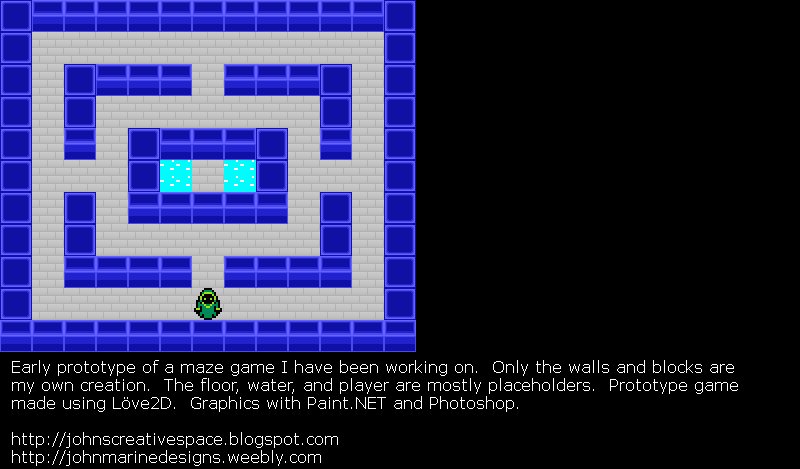 This is a prototype of a maze game I have been working on recently. Only the walls and blocks are my own art. Most everything else (floor, water, and player) are placeholders.
Notes and Progress.
There are a lot of things to be worked on, but I am trying to learn how to program these things in. So here are a few notes I want to share about my work:
• I have mostly learned how build maps of my levels. What I have NOT mastered, though, is making maps without having to have them in their own folder. I am trying to make a sprite sheet for which I can call on individual graphics without the need to call on certain graphics in a single image. The levels I am creating are all tile-based. While using a program like Tiled Map Editor is much easier, I am using Notepad++ to build the text array. I am actually going to use Tiled to better build the levels.
• A character has been implemented, but I haven't made it properly be used around the level. I have not yet designed the level so the proper aspects of the level have proper colliders for impassable areas (walls, water, lava, etc.). The character is not to go diagonally across levels. I have to change this as well.
• I have plans to make this game available as a Flash game at first. I ultimately want this to be available for Flash, Android (maybe even Android TV), and OUYA. I have no device to test for iOS, so I am not even considering iOS at this point.
Initial Plans.
When this game is better developed, I will share more specific details on it. Enjoy what I have made for now. The initial final product will have some five levels to it. Maybe later, I will expand it to ten levels. I want to make a small game just to get it out there. The long term project will feature some ten different chapters to it, each with 10 levels. That means I am planning this to be a 100-level maze game.
I may possibly share some notes on my game outside of my blog, mostly on Patreon. So if you want to get in on some exclusive aspects of my game when they become available,
support (or at least follow) me on Patreon
!
I apologize for not updating my blogs recently. Now you know a little bit as to why I haven't been active on the blogging circuit lately. This will all hopefully change these times. For now, though, that concludes another post on "John's Creative Space." Thank you for reading! Take care and be well.